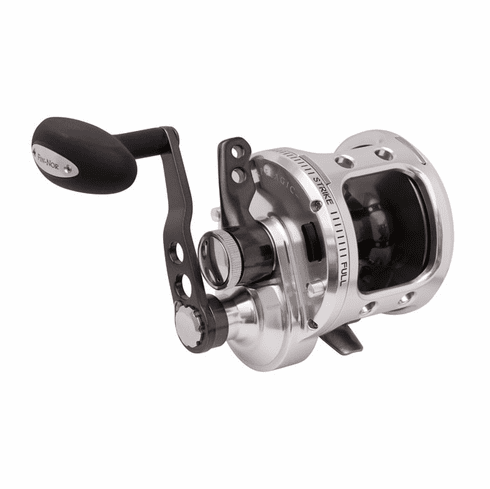 Fin-Nor Marquesa Pelagic Reel
Product Description
For anglers pursuing sailfish and marlin on lighter standup tackle, our new Marquesa Pelagic series is the perfect choice. The custom drag cam is designed to provide a more linear drag range from 0 - 15 lbs., allowing fine adjustments in the lower drag range. The top crossbar helps manage spool overrun for kite fishing and live baiting techniques, and the high-speed retrieve makes this the ultimate reel for billfish enthusiasts.

The 2-stage cam system in our new Marquesa Pelagic reels gives you more control in settings below the "Strike" position, and a steeper control curve when more-than-strike is needed.

Marquesa Pelagic Features:
• Precision-machined aluminum one-piece frame
• 6 Ball bearings
• Ultra-smooth carbon-fiber drag system
• High-speed retrieve
• Unparalleled free-spool
• Oversized ergonomic crank knob
• 2-Stage cam profile for more aggressive control past "strike"

MA30TP
Mono: 450 yds. / 20 lb, Braid: 670 yds. / 50 lb, Max drag: 12 lbs, Ratio: 6.1:1 / 51"
MA40TP
Mono: 440 yds. / 30 lb, Braid: 700 yds. / 65 lb, Max drag: 15 lbs, Ratio: 5.2:1 / 50"